<![if !vml]>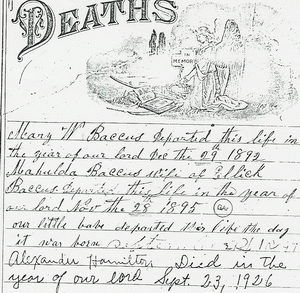 <![endif]>FINDING GEORGIA BIBLE RECORDS - Now that it is no longer fashionable to keep a family bible register, this source of information is slowly slipping into oblivion. Other than a relative who might still have an old bible, there are some Georgia sources. 1 - D.A.R. Bible Records. During the 1930's the Georgia chapters made efforts to locate old bible records. These were transcribed in the chapter books. Granted, they were poorly typed, on transparent paper and the like, but they exist! All of the Georgia chapters are at the Georgia Archives. You have to examine each volume. 2 - Folder Collection. Georgia State Archives. 3 - Microfilm Collection. Georgia State Archives. Search index card file in microfilm room. 4 - Regional Libraries: Family Puzzlers, area genealogical quarterlies.
Research
Why do I Search for My Ancestors? How often has this question been asked of you? Everyone searches for identity. Answers come from within (not without). When I was growing up the theme was that our environment was the controller. Yet, different members of
families

families

react differently under the influence of the same environment and rise to adults with opposing philosophies. Perhaps only the

genealogist know

the best answer. My brother and sister inherited our great-grandmother's flower ears. One sister duplicated stern contrarian attitudes of a great-aunt. All siblings suffered our paternal great-grandfather's psychological depression. I could continue on with similar facts. You get the gist. These examples are physical and

behaviorial

characteristics. The environment cannot possibly control. We did not know the ancestor's whom we emulate but their genes flow through our bodies as though that person were living again. In a generalized fashion we are the

composit

of the weaknesses and strengths of those who walked before us. Before judging them, please do a little historical research about their times. Our relatives pioneered a rural existence which carved our future. They proceeded in the face of harsh realities (just as we do). Most Americans who have emigrant ancestors dating to the 17th century descend from persecuted

protestants

or were driven from their European homes. They searched for a better way. Take a paper and write down the centuries on one side and names of your ancestors on the other side-include dates. Then study the history of those eras. You do not need a Patrick Henry as an ancestor, because you already have one. Yours were the ones who helped to foster his cause for liberty. Without their support, there would be no published heroes. Remember, someone has to do the research before your family heroes are discovered. Don't forget to write a historical and genealogical accounting of the experience. That is how we remember family members from one generation to the next. Thus, in our quest to find ourselves we discover such ingredients as bravery, tragedy, deprivation and all sorts of human emotions. Who are we? Why we are an extension of them. It is our turn to carry forth the banner of the human struggle in our generation.

Despite the odds.

-Jeannette Holland Austin
New Additions
Cemeteries :
Easley Family Cemetery - Emanuel Co.; Burials of Revolutionary War Soldiers
Marriages :
Baldwin (1806-1886), Banks Licenses (1859-1873), Banks(1885-1886), Berrien (1856-1900), Bibb (1831-1839), Bibb(n) (1885-1886), Bryan 1868-1889, Bulloch (1796-1850), Camden (1819-1890), Carroll (1829-1860), Carroll(n) (1885-1886), Dooly (1847-1852), Glynn (1818-1852), Laurens(n) (1885-1886), Lumpkin(n) (1885-1886), Macon(n) (1885-1886) , Madison *1885-1886), Marion(n) (1885-1886), Meriwether(n) (1885-1886) , Mitchell(n) (1885-1886), Monroe (1824-1850, Monroe(n) (1885-1886), Muscogee 1828-34;1837-41;1851-2;1885-1886), Newton(n) (1885-1886), Oglethorpe(n) (1885-1886), Paulding (1834-1906), Paulding Divorces(n)(1885-1886) , Pickens Divorces(n) (1885-1886), Pierce(n) (1885-1886), Polk(n) (1885-1886), Rabun(n) (1885-1886), Randolph (1837-1839), Richmond(n) (1885-1886), Rockdale(n) (1885-1886), Schley(n) (1885-1886), Screven (1815-1850, Spalding(n) (1885-1886), Sumter(n) (1885-1886), Talbot (n) (1885-1886), Taylor(n) (1885-1886), Terrell(n) (1885-1886), Thomas(n)(1885-1886), Troup(n) (1885-1886), Union (n) (1885-1886), Walker(n) (1885-1886), Walton(n) (1885-1886), Warren (1794-1805 , Washington (1828-1851), Washington(n) (1796-1885), Wilcox(n) (1885-1886), Wilkes(n) (1885-1886)
Genealogies :
Abercrombie of Orange Co., N. C., Hancock & Greene Co.'s Georgia; Brent of Monroe Co.; Bowdoin of Massachusetts, Edgefield, S. C., Monroe & Putnam Co.'s; Bowling of Oglethorpe Co.; Bond of Virginia; Elbert & Wilkes Counties; Bird of Virginia & Hall Co.; Blue of Glynn Co.; Blue of Wilcox Co.; Bull of Coweta Co.; Burch; Callaway; Campbell.
Bible Records

:
Abercrombie, Edmund; Baccus; Banks; Barnett, John; Barnett, William; Barnett of Greene Co.; Barrett; Barwick; Bird, John; Blue, Francis Archibald; Bond, Dudley; Bond, Joseph; Booth; Bowling, Thornberry; Bowdoin, Josephus; Brent, Thomas Young; Bull, James A.; Burch; Callaway; Campbell; Griffin; Harper, George; Rollins; Smith, Davis
Copyright Restrictions Apply:  The content of this newsletter is the sole property of Jeannette Holland Austin. "I hereby give the right to freely quote or redistribute this article, provided that full credit is given to the author as well as links provided to  www.georgiapioneers.com  
Without written permission, the right to add or incorporate any of my articles into a website is expressly forbidden. Copyright violators will be prosecuted.
…..Jeannette Holland Austin"