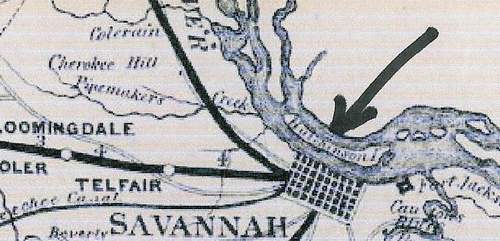 Thomas Salter arrived in Georgia in 1733 when he was appointed Constable. Salter's Island was located near Savannah. A brickmaker, he first received a land grant on Hutchinson Island in 1738, 500 acres, which he called "Salter's Ialand". This site was located about 3 miles from Savannah; another 500 acres on Augustine Creek was granted him in 1742, near Thomas Causton's Ockstead and others. He married Hannah Coles, the widow of Joseph Coles, milliner. The oldest homes in Savannah were constructed with Salter's brick. However, in 1847, he discovered that the clay on Hutchinson's Island (the present-day site of Fort Jackson) was superior, and abandoned his island to remove there. He was known to be a diligent worker, however illiterate. However, upon taking a 7-year lease on Hutchinson's Island like modern day mortgages, his industry caused him prosperity. He was married to Anne, the widow of Joseph Coles, in 1736.
Today, when one walks the brick sidewalks of Savannah and observes numerous brick homes , it is curious to wonder if these are Salter's bricks. General Lachlan McIntosh shot and killed Button Gwinnett in downtown Savannah. Could it be that Gwinnett fell to his death upon Salter's bricks?

Ockstead Plantation was located on St. Augustine Creek, overlooking Causton's Bluff, near Savannah. Thomas Causton was one of the first settlers to come with Oglethorpe to Georgia. In 1733, he petitioned for a tract of land which lay approximately six miles east of the town of Savannah. He built a home and plantation on 260 acres St. Augustine Creek. He became an unpopular powerful figure in Savannah politics, being made keeper of the store in Savannah, which deals continuously came under question by other settlers. In May of 1737, Oglethorpe gave him 50 pounds to begin the settlement of his land. Ockstead's mulberry orchards were known to be one of the four largest in the colony. He also planted a large garden, and in during a bad year of drought (1738) planted grape orchards. For many years the plantation prospered, but had to put Ockstead up for security when ordered arrested by Oglethorpe (for defalcation of the stores) and had to take up residence in Savannah until the case was settled in court. In the meanwhile, England's war with Spain was ongoing, and Oglethorpe was fight the Spanish in the Georgia colony. When Causton's case went unsettled, in 1744, he left for England to take up his case with the trustees. From 1745 to 1750 the plantation was operated by the trustees at their own expense. On a return voyage in 1745, Causton died onboard the Judith, and William Williamson (his nephew-in-law) became administrator of his estate. But Williamson was not given title to the plantation until 1764. Ockstead began to lose its appeal when rice planters began making huge profits along the Georgia coast. Williamson resided in South Carolina, and used an overseer to run the affairs, until he sold it in 1792.