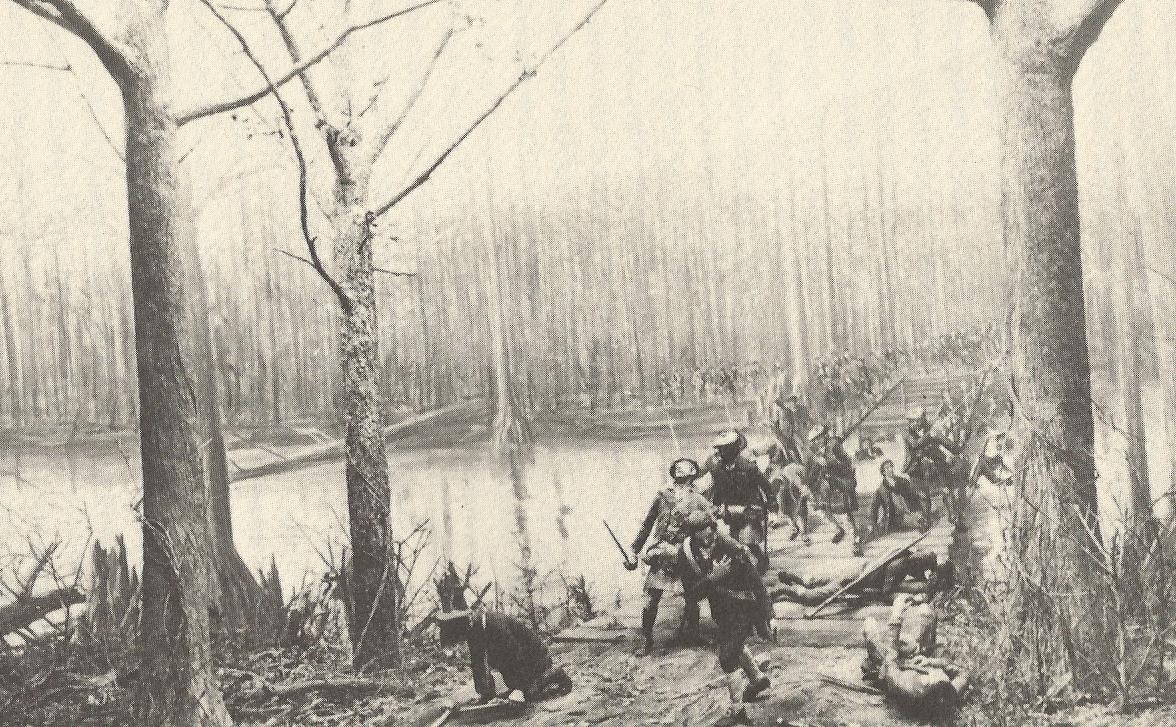 "Notwithstanding this scouring at Moore's Creek and the just condition of our fellow citizens, we remained unhurt, as still, Tories as ever. The expedition took place in the month of February 1778, from which we returned and began to repair our fences for a crop the ensuing summer. About the first of June, a report was circulated that a company of riders was coming into the settlement; and, as a guilty conscience needs no accuser, everyone thought they were after him. The report was that Colonel Alston had sent out four or five men to cite us on to muster at Henry Eagles on Bear Creek, upon which our poor deluded people took refuge in the swamps. On a certain day when we were plowing in the field, news came to my father that the Light Horse was in the settlement and requested that he would conceal himself. He sent me to the house of his brother-in-law to give him notice and ordered me to take the horse out of the plow, turn him loose and follow him as best I could. I went to the horse but never having plowed any in my life, I was trying how I could plow, when giving men on a horse appeared at the fence, one of whom, Daniel Buie, knew me and asked me what I was doing here. I answered that my father lived here; and he said, he wasn't aware of that."

"Come, he says, Come go with us to pilot us through the settlement; for we have a boy here with us who has come far enough. He is six miles from home and is tired enough"

"I told Mr. Buie that I dare not go, for if I did, my father would kill me. He then alighted from his horse and walked into the field, ungeared the horse, and took him outside the fence. He then put up the fence again, and leading me by the hand, put me on behind one of the company.

We then went to Daniel Shaw's, thence to John Morrisons (the shoemaker); thence to old Hugh McSwan...here I was ordered to go home, but I refused and went with them to the muster at Eagles. The next day, Colonel Philip Alston appeared at the muster, whose men told him that they had taken a boy to pilot them a little way through the settlement and that they could not get clear of him. Then, the Colonel personally insisted on my going back to my father; but I told them I would not; for he had told me the consequence of my going with them before they took me... One evening the brigade, being on parade, I felt a great desire for home and thought I saw everything in my father's house before my eyes. I got out of my tent and went away some distance to a fresh-running branch. The water, from falling over a large poplar root, had made a deep hole blow, and getting into the hold I laid my head on the root, which I believe was the sweetest bed I ever laid. The water was so cool to my parched body that I lay there until 10 o'clock the next day before they found me, George Dudley, Sgt. Of our company, having crossed within two feet of my head without seeing me. William Carrol, who was in company with Dudley, discovered me and exclaimed: By G-d, here he is, burned to be an otter. He is under the water! Dudley, having passed me, turned back, took me out of the water, and carried me to camp. When the doctor came to see me, he said that the water had cooled my fever and that I had recovered, though he had given me out before."

The complete genealogy of Hugh Macdonald is available to members of GeorgiaPioneers.com in the Genealogy Vault.