Pickens County Wills, Inventories, Estates
Pickens County lies at the southern end of the Appalachians in North Georgia, a region once occupied by the Cherokee Indians Indians until the tribes were forced from the Carolinas in the 1770s. In 1805, the Federal Government forced the Cherokees to accept a road through their lands to Nashville. Portions of the Old Federal Road are still visible in the County today. The 1832 Cherokee Land Lottery gave these lands to white settlers. The County was formed from portions of Cherokee and Gilmer Counties in 1853.
Marriages
Index to Pickens County Marriages 1854-1878
Pickens County Divorces from newspapers 1885-1886
Indexes to Probate Records
Pickens County Legal Adv 1868-1873
Index to Pickens County Will Bk A 1854-1887. Includes Wills, Administrators, and Guardians Bonds.
Index to Pickens County Will Bk B 1887-1935
Index to Pickens County Inventories and Appraisements of Estates, Book A, 1854-1880
Digital Images of Pickens County Wills 1854-1887
Testators:
Allen, Robert
Anderson, Solomon
Barrett, C. A.
Biddy, Elias
Bozeman, Henry
Bradley, Bethel
Bryant, Hugh
Bryant, Martin
Burbison, Isaac
Chastain, William
Craig, William
Crow, Abraham
Cunningham, L. S.
Davis, Ephraim
Disheroon, Bethel
Griffith, Mary
Griffith, Stephen
Guyton, John
Haley, Thomas
Hopper, Samuel
Johnson, Edward
Keeler, Joel
King, Cummins
Larman, Lewis
McCutchen, Samuel
McMillan, John
Morrison, Andrew
Mullinax, Isaac Mullins, John
Norton, Thomas
Potts, Young
Rast, J. L.
Smith, Alfred
Smith, B. J.
Stegall, John
Taburiaux, Sylvester
Tate, Mary
Tate, Samuel
Taylor, Solomon
Taylor, Thomas
Thomas, Elijah
West, Merrick
An Entrepreneur of Georgia Marble
Marble is a metamorphosed limestone prized for its hardness and variety and is quarried in north Georgia near Tate, in Pickens County. This marble has been used extensively for gravestones and in buildings throughout the United States, including the U.S. Capitol. Sixty percent of the monuments in Washington, D.C., are Georgia marble. Actually, the use of marble dates back to ca 1400, when it was used to carve effigies, bowls, projectile points, and other necessities. These early artifacts were found in Pickens County and are now part of the permanent exhibit at the Etowah Mounds near Cartersville. Colonel Samuel Tate, a grandson of Colonel Samuel Tate had foreseen the possibilities of marble being mined in Pickens County. For that reason, he secured large tracts of the precious marble-stocked land. Also, in 1834 he purchased many lots from the original drawers in the land lottery just four years before the departure of the Indians from the area. Everyone did not take up their land from the 1832 lottery of North Georgia. Ultimately, Colonel Tate became president of the Georgia Marble Company of Pickens County. Ref: The Constitution, Atlanta 12/13/1886.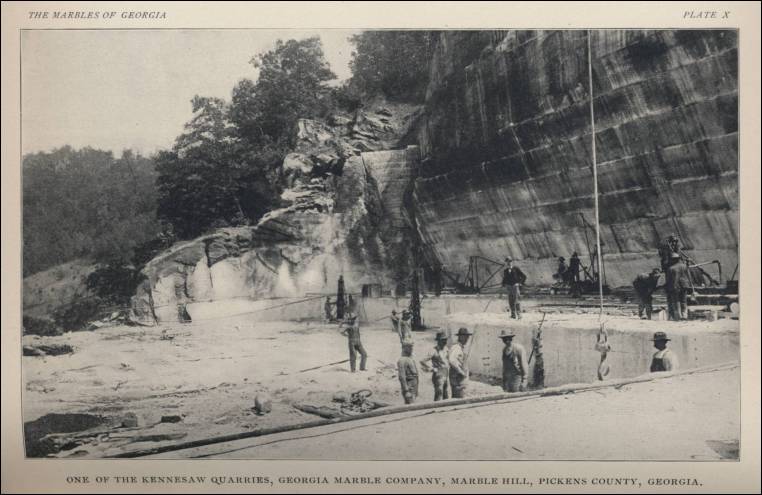 1907 Quarry in Pickens County.
---
---
Videos that will help you find your ancestors. Topics include Genealogy Tips, Emigrants to America, Historical Events & People, etc. Free
---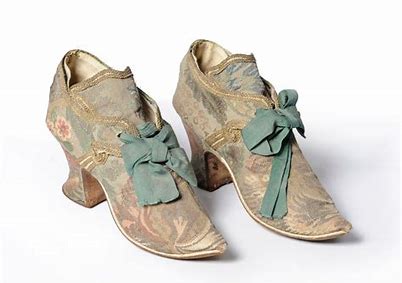 Yesterday Newsletter

. . Featuring stories of the past that you will treasure!