Highlights
You will be entertained by the glorious past of Georgia, dating from colonial days, ante-bellum through the War Between the States into the present. Use these videos in the classroom, historical societies, genealogical societies, libraries, and for history buffs.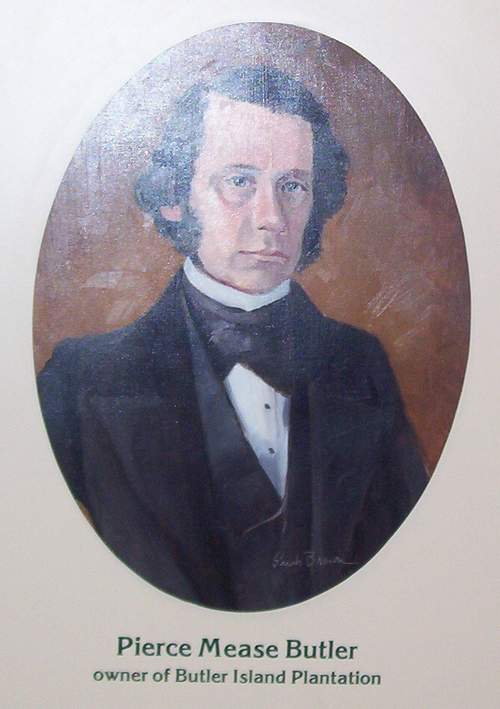 The Butler Plantation and the Actress, Fanny Kemble
During the 19th century Major Butler was known as one of the richest men in Georgia, owning thousands of acres from Savannah to Brunswick. He utilized the marsh land for rice patties and also grew the Sea Island Cotton on his numerous South Carolina plantations as well as the Butler Plantation in Darien, Georgia. He wed Miss Fannie Kemble, an New England actress who hated plantation life. Her notorious book
Fanny Kemble
may be read on
Genealogy Books
Although she despised the Butler plantations, she lived the life of the privileged as a wealthy Southern Belle during the prime era when there was money to be made in rice and cotton crops in the South. During the War Between The States the family left the plantation. Pierce Butler and his daughter, Frances, did not return until 1866. Butler died a year later.
Laurance DeGive was born 1828 in Belguim. He and his wife, Pauline and their oldest daughter, Pauline (born 1864), came to America and settled in Georgia after the War Between the States, about 1866. Their first son, Peter, was born 1867, Henry was born 1869 and Julius was born 1871, all in Atlanta. Laurence first built an opera house on Marietta Street and ultimately amassed a fortune. An article in The Atlanta Journal in 1893 referred to him as a gentleman of strong and commendable parts, and of high intelligence and culture. In 1893, he built a new opera house on Peachtree Street, called DeGive's Grand Opera House and furnished it from the retail business of M. Rich and Bros. (later became Richs Department Store). All of the entrances were heavily draped with gold valour velvet curtains. Royal Wilton carpets trimmed with maroon ground and gold figures were laid in the entraces' the lobby had inlaid marble; and decorate tile graced the spacious vestibule. There were 22 boxes. The first performance given that year was Men and Women. In 1893, Atlanta had 250,000 inhabitants. The opera house was later sold to the Loews Company, who used it for a movie theatre "Loew's Grand Theatre" which became famous for its showing of Gone With The Wind.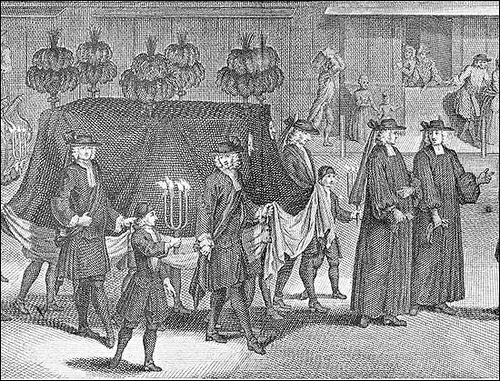 Elegant Funerals
The funerals during the 17th century had flare! Here are a few things which have been forgotten. People wore a plain funeral ring as well as a pair of white funeral gloves. Such items were mentioned in last wills and testaments and passed down to relatives. The time of mourning was one year, which all family members observed except the widow who might prefer black until she remarried. The remarriage was certain, however. In the colonies, there was a need for women to replace those who died in child birth and of fevers. Also, there were often small children who needed raising, and, believe it or not, it was not unusual for her to "select" the next wife. This explains the frequency of marriages to sisters and cousins of the same families. If a woman lost her husband, she had several suiters at her door the next day to compete against one another. After all, the estate left by her deceased husband consisted of the plantation and other resources valuable to the community. All of the work and expense going into the homeplace was not to be lost! The early settlement of the wilderness country of the colonies was a brave decision. Not only was their disease, but unfriendly natives went out the white European settlements with hatchets. In 1622, for example, in Virginia, Chief Powhatan set out to slaughter every white man. It was a great tragedy which called for widowers to return to old neighborhoods in England to find new wives. This was a solemnly respected occasion during which all of the neighbors generally attended. The old wills are replete with information about the funerals. Subscribe to 8 genealogy websites and discover more information. Subscribe here